Indian Motorcycles for Sale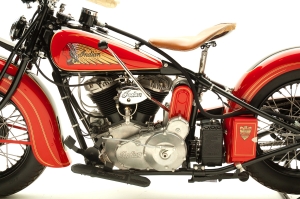 Indian Chief 1935
Anaheim, CA
This 1935 Indian Chief has just undergone a 2 1/2 year complete frame off restoration. I have always believed that the 1935- 39 Indian Chiefs are some of the best looking motorcycles ever made. The 1935 year models were the first year of the streamlined fenders with the deep valance. This Chief features the optional "V tank panels" with a red and black two color paint design. This motorcycle runs and rides as good as it looks too. It has a 6 volt electrical system.
The paint job on this bike is absolutely gorgeous. It features a two tone red & black paint scheme with both thin & thick gold pin striping. The paint has 4 coats of clear and was hand rubbed out. This 1935 Chief runs as good as it looks. No expense has been spared during this restoration. It runs and rides as good as it looks.
The motor was completely & professionally rebuilt including:
1. This is an optional "Y" motor with larger aluminum cylinder heads.
2. Crankcases; All new bearings & races, then line honed & ball burnished.
3. Crankshaft; All new bearings & races, then honed, trued & balanced.
4. Cam Cover; rebuilt with all new bushings, then honed.
5. Oil Pump; completely rebuilt. (This is an original 1935 oil pump).
6. Distributor: Completely rebuilt with all new moving parts. (This is an original distributor).
7. Primary Cases; All new primary chain and friction plates.
8. Transmission; New bushings and gears replaced as necessary.
9. Cylinders & Heads; Correct front & rear 1935 Cylinders, new liners, pistons & valves, seats & guides. Ricardo "Trench" heads.
10. Carburetor; Correct Schebler DLX108 carb, rebuilt.
11. Generator; New Cycle Electric 6 volt generator.
12. Oil Lines; New, Cad Plated.
13. Shift Lever; New left hand shift.
14. Exhaust; New with Town & Country cut out.
15. The frame & chassis were completely stripped, bead blasted, straightened as necessary, repaired, filled, primered and powder coated black.
1. Frame: This is a correct 1935 frame: # 3351836.
2. Tires: New Coker diamond treads.
3. Spokes; New stainless steel spokes & nipples.
4. Hubs; Rebuilt with new bearings, felts & parts.
5. Brakes; Re-lined and custom arced to fit the hubs.
6. Cables; New.
7. Twisters and grips; New.
8. Tanks; New, Iron Horse Corral.
9. Fenders; New Iron Horse Corral.
10. Seat; New seat, seat post & new mounts.
11. Chain guard; New
12. Tool Box; New and new latch assembly.Handlebars: New from Mark's Indian Parts Factory.
13. Headlight; New Motolamp. (this is the correct 1935-37 version)
14. Horn; New Indian Feather Face Horn.
15. Ammeter; New
16. Ignition Switch; New 1935 ignition switch (1935 only).
17. Dash; Original 1935 Indian dash panel with a chromed "map light"
18. Sprockets & Chain; New.
19. Nuts, Bolts & Fasteners; Correct hardware with no markings on heads, most are cad plated.
20. Motor #: CCE236M (1935 year model)
21. Frame #: 3351836 (1935 year model)
22. I have owned this motorcycle since the mid 1990's.
Check out this video on Youtube and you can see and hear it run.
Title: I have a clear California title for this motorcycle.
Registration; I have California tags for this motorcycle but it has not been registered for the past 2 years.
Shipping: The buyer is responsible for all shipping and crating costs. I can assist the buyer with shipping and crating if necessary.
I can ship to:
• Europe
• Japan
• Australia
• Worldwide
International Buyers please read: The buyer is responsible for all taxes, duties and fees.